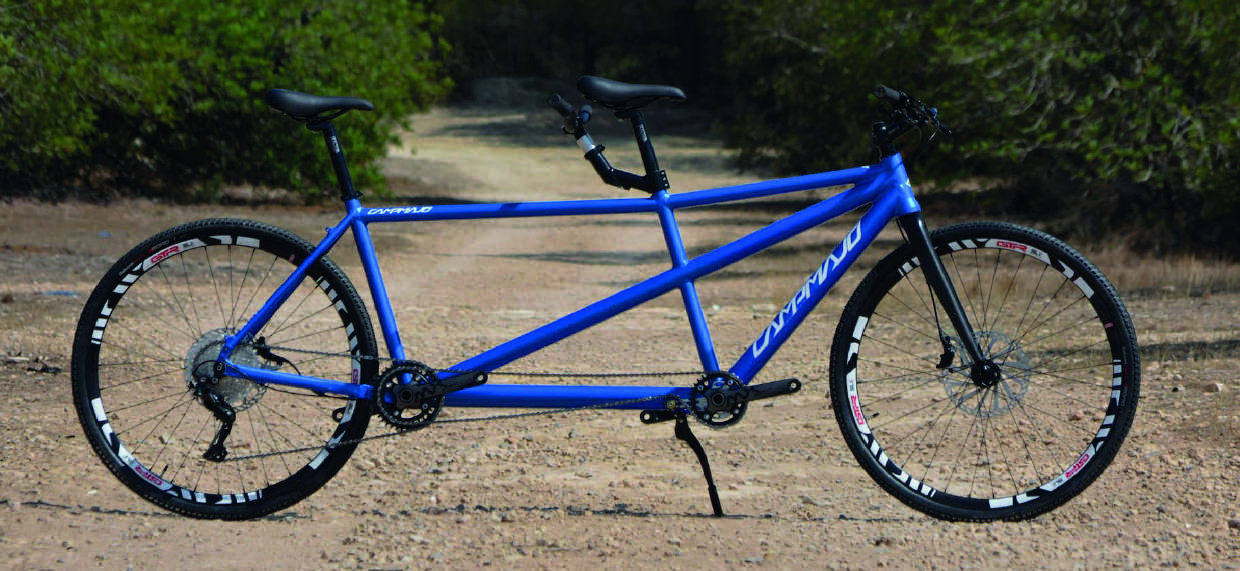 Booking
Hit the gravel paths with a buddy on the Gravel Tandem Bike. It's built tough for double the fun on mixed terrains. Perfect for couples or friends with a shared thirst for adventure!
1 Day

52€

2 Days

87€

5 Days

162€

3 Days

117€

6 Days

180€

4 Days

142€

7 Days

198€

For more days it's + 18 € per day
Explore trails and paths with the Tandem Gravel, the perfect double bike for couples or friends. Robust and versatile design for double the thrill on mixed terrain.
The Tandem Gravel bike
Is your passport to adventure with company. Designed for two, this robust and versatile bike opens up a world of possibilities on mixed terrain, from smooth trails to the most challenging tracks. With its gravel-optimised geometry, it offers comfort and performance, ensuring that the fun is multiplied by two.

Frequently Asked Questions
Is the gravel tandem suitable for all levels?
Absolutely, from beginners to experienced riders can enjoy this bike.
What kind of terrain can you go on with this tandem?
From dirt roads to gravel trails and uneven pavement, it is designed to be as versatile as possible.
What kind of brakes does it have?
Powerful disc brakes and reflective lights for increased visibility.
Can I test the tandem before renting?
Of course, we offer test rides so you can feel confident with your choice.
What makes this gravel tandem unique and why should we rent it?
This gravel tandem is built with a 7000 series aluminium frame handmade in Tarragona by Campmajo Bikes, with high quality TIG welds. Its lightness (14kg in total) for adventures in couple with total confidence.
How does this tandem adapt to cyclists of different sizes?
With customisable geometry for both riders, this tandem fits the specific needs of each rider, ensuring a comfortable and efficient riding experience, perfect for rental where customisation is a plus.
What advantages do the components of this tandem offer?
High-end components, such as wide tyres and GTR SL20 wheels, offer optimal performance in a variety of terrain conditions. Clarks 4-piston brakes ensure powerful and safe braking, ideal for gravel cycling.
Is this tandem suitable for long and challenging gravel routes?
Yes, with its robust SunRace drivetrain system, and the reliable Campmajo brand and dependable KMC 11v chain, this tandem is ready to tackle long routes, providing a smooth and efficient pedalling experience.

Why book this gravel tandem?

Ideal for couples or friends, the gravel tandem is perfect for sharing a passion for cycling and adventure. The double coordination and effort strengthen bonds and ensure a unique experience.
Conclusions

Tandem Gravel not only amplifies the fun, but also strengthens the connection between riders. Book now and get ready to pedal in unison towards your next great adventure.